Wedding Package
See our One Stop Catering Shop for your special day:
Our complete range of Hot and Cold Finger Food, Buffet Platters delivered to your guests table, Waiting staff, Gormet Sweets, Beverage package and Tea & Coffee with After Dinner Mints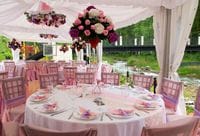 After you have tied the knott and you are having your photos taken your guests will be served with Platters of Hot Finger Food by our friendly staff. (We will make sure you and the wedding party are also taken care of.
This is complimented with Beer, Wine, Champagne and soft drinks served from the bar.
On entering the reception when your guests have been seated they will find thier tables dressed with cold finger food platters, Icy cold beverages and dinner rolls(You may wish to opt for bar service)
All tables will be set with China plates, Stainless Steel cutlery, Glassware, Napkins, Salt & Pepper and Condiments.
Our delicious buffet of three Hot Spitroasted Meats - Your choice of Beef, Pork, Lamb or Chicken - heaped on platters will be served to the table with hot spuds, pumpkin and gravy.

Served simultaneously with three of our Fresh Homemade Salads - Garden Salad, Coleslaw, Creamy Pasta Salad or Salsa Rice Salad. Hot vegetables available on request. Our Menu is very flexible and can be adapted to suit any of your needs.
There's no need to worry that your guests will go hungry as our helpful staff will top up platters as the meal progresses.
When the main meal is completed, indulge your sweet tooth with your choice of two of our Gourmet Sweets served to the table.
Your guests can help themselves to our Coffee Station and after dinner mints will be placed on the tables.
Our staff will collect all china, cutlery, glasses and bottles and tidy our preparation area before we leave.

Recomended Suppliers