Classic Spit Roast Buffet Call us now for a quote! 9729 9111
Menu also available in DIY
Catering for all your spit roast needs the following two courses are guaranteed to please even the fussiest eaters!
We set up our buffet of delicious meats and salads on trestle tables you provide.
Our staff carve the hot meats into trays so your guests can select the meats of their choice.
SPIT ROAST: BEEF - PORK - LAMB - CHICKEN
(you can choose any three meats)
JACKET POTATOES wrapped in foil
With Sour Cream
FRESH SALADS
Pasta Salad, Salsa Rice Salad , Coleslaw, Potato Salad and Garden Salad Platter.
WINTER VEGETABLES (Optional Extras)
Mixed Roasted Vegetables, Cauliflower Cheese, Steamed Vegetable Mix, Scalloped Potatoes.
(Extra Charge for Vegetables)
SWEETS (Optional Extra)
Pavlova, Cheesecake, Fresh Fruit Salad & Cream, and Chocolate Mud Cake.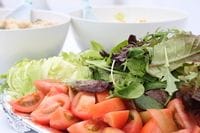 Includes all disposable Plates, Cutlery, Napkins - Condiments -Tinned Beetroot- Hot Gravy - Dinner Rolls
A per guest surcharge will apply for China Plates and Stainless Steel Knives/Forks.
Prices will vary depending on your requirements. Please phone us on 9729 9111 for further information or to make an online enquiry click here!