GRAND TOWER BUFFET MENU - For the ultimate Feast!
Check out the Grand Tower in action and hear the excitement and delight of our customers:-
Mains
Our friendly staff will assemble your fully loaded 3 tiered towers at each table with a buffet of delicious quality food - A Centrepiece loaded with extras!

Topping the Tower are your selections of our Piping Hot Succulent Spitroasted Meats - Beef, Pork, Lamb, Chicken or Ham.
Promoted by a selection of Hot Vegetables on the 2nd Tier of your Fully loaded Tower. Including Roasted Potatoes, Pumpkin, Carrots, Turnip, Onion, Cauliflower Cheese, Vegetable Bake, Scalloped Potatoes, Brocoli, Beans....Whatever your tastebuds desire.
Supported by the base of our Grand Tower - The Salad Bar! Creamy Pasta Salad, Traditional Potato Salad, Coleslaw, Salsa Rice Salad in a bed of Garden Salad gauranteed to spoil all your guests.
Tables will be set with all condiments, china plates, knives & Forks, napkins and dinner Rolls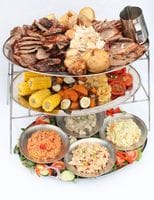 Sweets
Table Service
We can provide table service, giving you a choice of any two gourmet sweets, alternating per guest.
or
Grand Dessert Buffet
For a greater variety of choices try our Grand Dessert Buffet on Mini Towers
Any sweets you like to be served from a buffet table.
The Grand Tower will suit a wide variety of functions; Weddings, Anniversaries, Corporate Functions that need to impress, Sporting Functions that want an edge or any occasion that requires a bit of grandeur.
Prices will vary depending on your requirements. Please phone us on 9729 9111 for further information or to make an online enquiry click here!