Fun Party Food! - Do It Yourself Wraps


For a Party your guests will never forget try our Do it yourself Wraps!
Choose any 3 Tender Spit Roasted Meats:

Lamb - Pork - Beef - Chicken
A Range of cosmopolitan Sauces
Fresh Salads
Warm Wraps to make your own flavour combination!
Enough food to go back for more and belive me, you'll want more!
We will deliver our Hot DIY Package to your door with everything your Guests will need to make their own tasty wraps.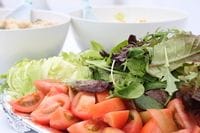 Our Package includes:
Hot Carved Meat
Warm Pita Breads
All sauces Tzatziki, Sweet Chilli, Guacamole and Tabasco sauce.
Fresh Salad - Lettuce, Tomato, Onion, and Cucumber
Grated Tasty Cheese
Coleslaw
Quality Disposable Plates, Cutlery and Napkins
Please phone us on 9729 9111 for further information or to make an online enquiry click here!